New freight train route links Yantai, Duisburg
Updated : 2019-07-31 (Xinhua)
A new freight train left Yantai, a transport hub in eastern China's Shandong Province, heading for Duisburg, northwest Germany on July 26.
The train, loaded with electrical appliances, auto parts and mechanical equipment, worth about $3 million, will leave China through Erenhot in Inner Mongolia Autonomous Region and reach Duisburg within 20 days.
So far, the city has sent 14 freight trains to Asian and European countries, greatly enhancing the economic and trade cooperation between the province and Eurasian countries along the rail network.
More Shandong cities have been connected to freight train routes that lead to over 48 destinations, including cities along the Belt and Road in a sea-rail combined transport network.
The Europe-Asia freight trains departing from Shandong are operated under the name of "Qilu", another name of the province. The move is good for resource integration, route planning and optimization of transportation.
Shandong has sent a total of 214 freight trains to Asian and European countries in the first quarter.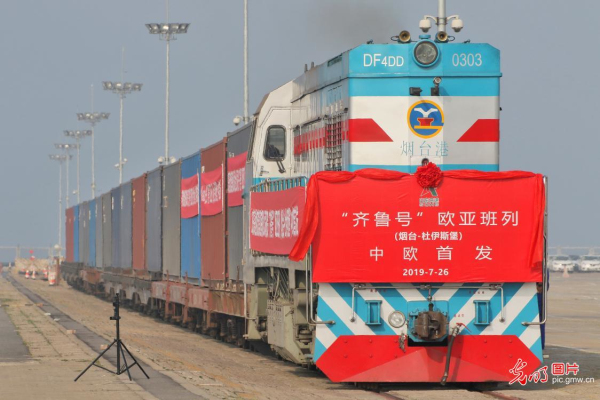 A new Europe-Asia freight train departs from Yantai, Shandong province to Duisburg, northwest Germany on July 26. [Photo/pic.gmw.cn]