A monster storm Hurricane Harvey strengthens to Category 3
Hurricane Harvey has officially become a Category 3 storm, as Texas is bracing for impact later Friday evening.
The storm, which has sustained winds of 125 mph with even stronger gusts, is expected to be the worst to hit the state in nearly two decades.
Residents staying in the area frantically stocked up on food, water and gas, while others heading out of the storm's path boarded up windows and doors of their homes and businesses.
Airlines canceled flights, schools were shuttered while concerts and other planned events in Houston and coastal cities were postponed.
Even after the hurricane hits the coast, its effects will linger for days, with heavy rainfall through next week estimated to be as high as 40 inches in some areas.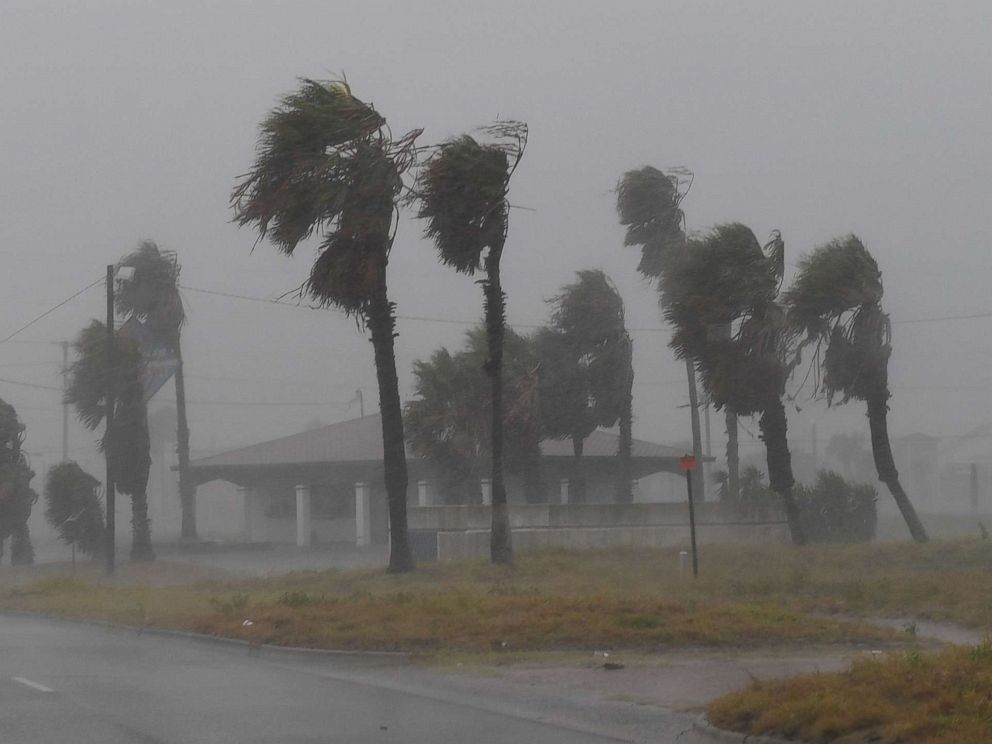 "This is going to be a storm we talk about, unfortunately, for at least the next seven days," ABC News Chief Meteorologist Ginger Zee said Friday on "GMA."
Here's what we know about the storm so far.
What's ahead
As of 4 p.m. local time Friday, the hurricane was 60 miles away from the coastal city of Corpus Christi, Texas, with sustained winds of about 125 mph and stronger gusts. Sustained winds of over 50 mph were being reported along the coast, with gusts over 70 mph.
The National Weather Service warned Harvey could bring a potentially devastating storm surge, heavy rainfall and wind hazards to the Lone Star State's coast. A tornado watch is in effect for areas of southeastern Texas and southwest Louisiana.
Life-threatening storm surge waters could reach 6 to 12 feet above ground level. Catastrophic flooding is expected across parts of the area. And rainfall will be heavy, with an estimated 15 to 25 inches of rain falling in many areas and as high as 40 inches in some from today through Wednesday, the National Weather Service said.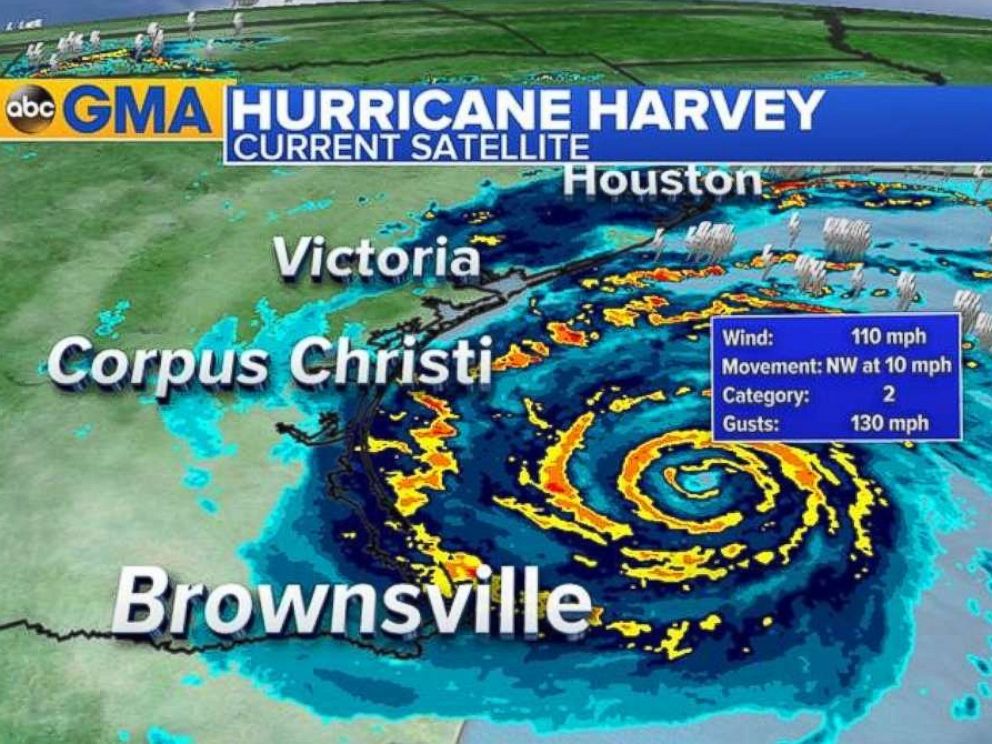 Here's a projected timeline for Hurricane Harvey thus far, according to forecasts from the National Weather Service:
Friday through Saturday: Harvey is expected to roar ashore the Texas coast as a Category 3 hurricane late Friday evening. After that, the storm's path remains uncertain but it is forecast to meander near or just inland of the middle of the Texas coast through the weekend.
Sunday through Monday: Some forecast models show Harvey expanding across the Gulf Coast as it makes its way over southern Texas.
Tuesday through Wednesday: The hurricane could, according to some models, move northeast and then re-emerge briefly over the Gulf of Mexico before making a second landfall in northeastern Texas or western Louisiana.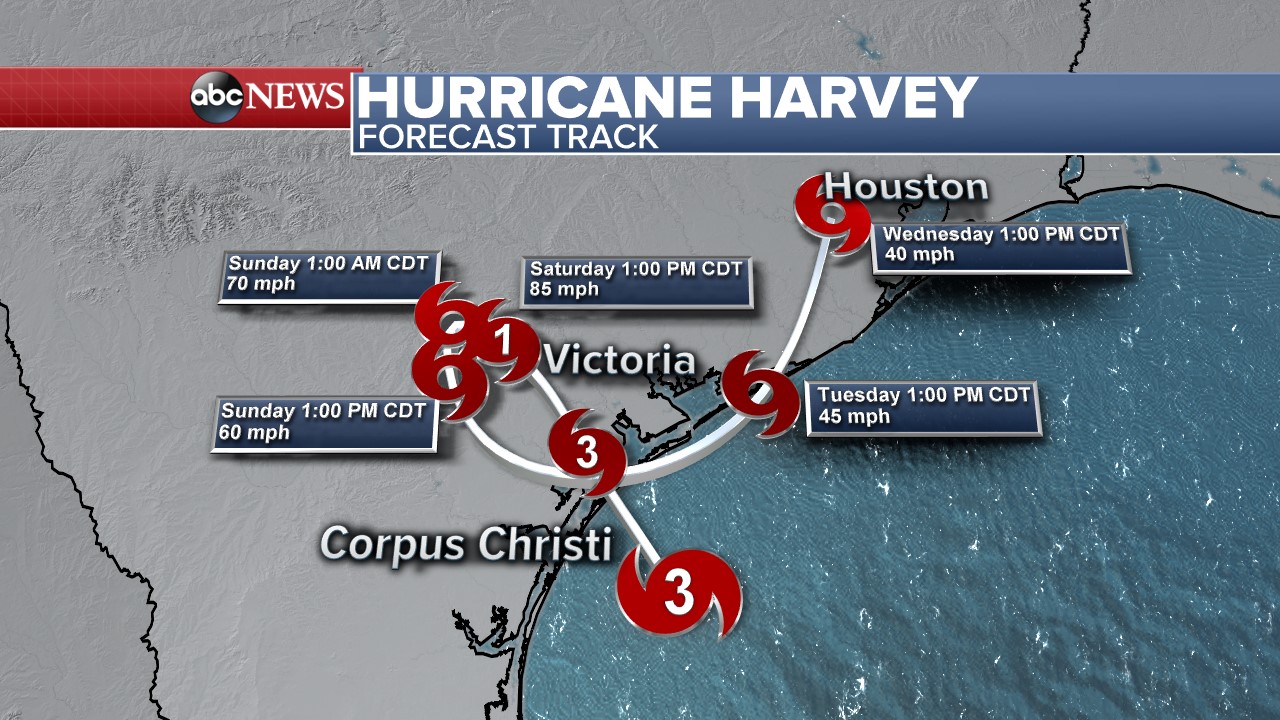 Preparation and evacuations
Storm preparation began in earnest on Wednesday and intensified on Thursday. Shoppers lined up to fill their carts with food and water, while lines for gas stretched out of many stations. Some people also got to work boarding up their homes and businesses to protect against the expected 100-plus mile per hour winds. Even the Texas Department of Transportation in Victoria boarded up its windows on Thursday.
As of Friday, governors had declared states of emergencies for 30 counties in Texas and statewide for Louisiana.
Corpus Christi resident Alex Garcia bought bottled water, bread and other basic grocery items in the Houston suburb of Sugar Land because they were likely more available there than back home, where stores were "crazy," he told The Associated Press.
Corpus Christi International Airport remains open but airlines have canceled all scheduled flights — incoming and outgoing — for Friday have been canceled, according to FlightAware. Major airlines are waiving cancellation fees.
Meanwhile, Houston airports plan to remain open but are encouraging travelers to change their plans.
British band Coldplay waited until Friday afternoon to cancel their concert scheduled that night in Houston.
"We really wanted to play tonight, but sitting here all together watching the news about the storm we feel that we can't ask anyone to put their safety at risk. So, sadly, we will have to postpone," Coldplay said in a statement.
And as Houston resident Bill Pennington prepared his one-story home for another deluge in the flood-prone city, the father told The Associated Press he comforted his nervous 9-year-old son by saying, "We know how to handle it. We'll handle it again."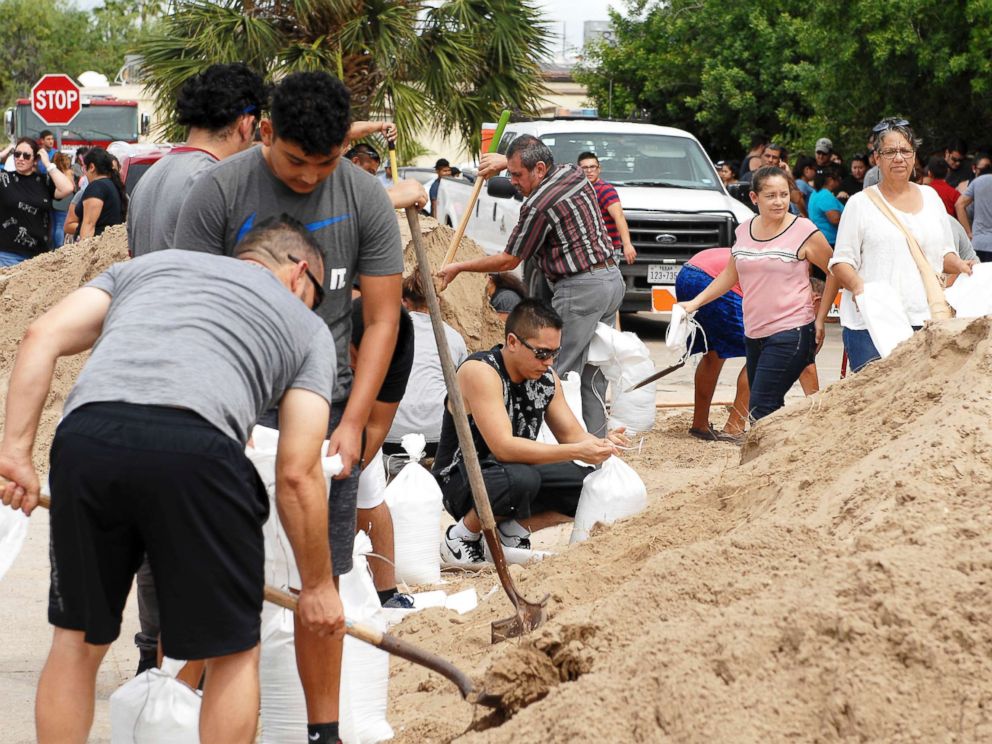 The Coast Guard said Thursday it is sending shallow-depth vessels to Texas and Louisiana that are capable of responding in flooded urban areas. And with gale force winds predicted to arrive within 24 hours, the Coast Guard on Thursday also ordered a nearly total closure of ports in Houston, Texas City, Galveston, Freeport and Corpus Christi.
Texas officials announced mandatory evacuations for all seven counties on the coast: Calhoun County, San Patricio County, Refugio County, Brazoria County, Jackson County, Victoria County and Matagorda County. In four of those countries, officials ordered their entire county to evacuate and warned those who chose to stay behind that their rescue could not be guaranteed. Voluntary evacuations have been urged for residents in other areas.
Mandatory evacuations have been issued for Rockport, Texas, where Mayor Pro Tem Patrick Rios told reporters Friday, "We're suggesting if people are going to stay here, mark there arm with a sharpie pen with their name and social security number."
"It's not something we like to do but it's the reality; people don't listen," Rios added.
While a mandatory evacuation order is not in place for Corpus Christi, Mayor Joe McComb did advise residents to voluntarily evacuate.