Beijing pledges timely change of replaced signs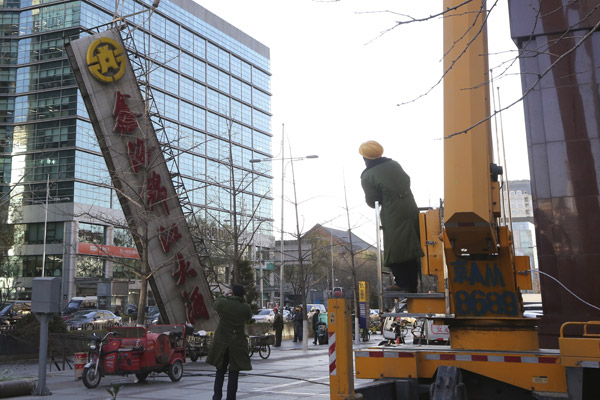 Workers remove a giant sign of a hotel in downtown Beijing last month that is deemed to have violated relevant regulations. (Photo by LIU MANQING/FOR CHINA DAILY)
In response to complaints that a citywide campaign to replace signs on buildings has made it difficult for people to find their way, the Beijing city management authority said on Friday that it would make sure that the replacing of signs will keep pace with their removal.
The Beijing Commission of City Management said that the capital had removed nearly 14,000 signs and billboards by Friday, according to a news release at qianlong.com, a website operated by the Beijing municipal government.
The capital is limiting the number and placement of signs on buildings starting October, aiming to "create an urban skyline that looks clear and bright", and strengthen urban management. The campaign was implemented as a part of the city's urban plan for the 2016-35 period.
According to a notice from the commission, all signs and billboards attached to roofs must be cleared. In addition, only one sign with a building's name can be placed on the third or higher stories, and the name should be the same as the one registered with planning authorities.
However, some people complained that they could not find their destinations after obvious signs on buildings-some of which served as landmarks-had been removed.
A user "nmm807" wrote on Sina Weibo that since many restaurants had their signs removed in Beijing's Xisi and Xidan areas, finding a restaurant has become difficult.
Some shops and companies had to put up banners with their names or logos on, to replace removed signs and billboards.
The commission said that it will study useful suggestions and speed up the efforts to make sure new signs are in the right place, according to the municipal regulation on management of signs and billboards.
The commission also said that it is developing overall designs for community neighborhoods, aiming to highlight their different features.