IVECO Brings Sustainable Natural Gas Power to London's New Year's Day Parade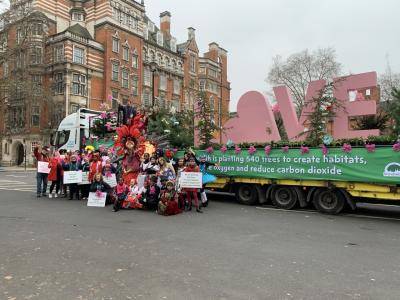 A team from Wandsworth Council approached IVECO with a request to borrow a Stralis NP 460 to pull its float through central London – supporting its key objective for the next decade to become more sustainable and achieve carbon neutral status by 2030.
Each element of the float had been carefully chosen to reflect the Mayor of Wandsworth, Councillor Jane Cooper's, passion for sustainability.
Commenting, she said: "We wanted to make every effort to ensure our float was sustainable and only contained materials that had been recycled, reused or repurposed – from the centrepiece LOVE letters to the banners and the carpeted flooring. Being able to power it on 100 per cent natural gas made a massive contribution and provided a really positive start to our work in Wandsworth in 2020 to fight climate change."
Gareth Lumsdaine, IVECO's Business Line Director Truck, explains: "London's New Year's Day Parade was billed as the 'World's Greatest Street Spectacular' and it didn't disappoint. We were delighted to be asked to team up with Wandsworth Council – they recognised the Stralis NP as being the most sustainable heavy truck on the road today, and naturally it proved to be the perfect fit with their theme for the event.
"It was a fantastic way to kick-off the new decade, and reinforced IVECO's position in the market as the ultimate partner for sustainable mobility."
The centrepiece of the float was a selection of the 540 trees Wandsworth Council is planting across the borough during 2019/20, with the Deputy Mayor of Wandsworth on a park bench waving to the crowds.
Accompanying the float were representatives from local schools, charities and community groups, each wearing flower pledges made from recyclables as a sign of their support for building a greener future together. The float party were all dressed in recycled clothes and accessories donated by HIV & Aids charity, Wandsworth Oasis. Representatives from Battersea Dogs and Cats Home also walked with the float promoting the positive work they do in the borough.
The Stralis NP 460 is the most sustainable heavy truck for 44-tonne operation, standing apart from competitors for being the only three-axle tractor unit to operate on 100 per cent liquefied natural gas (LNG).
The Stralis NP maximises the environmental advantages of natural gas, regarded as the most eco-friendly fuel for internal combustion engines. It delivers a 99 per cent reduction of PM and 90 per cent in NO2 compared to Euro VI limits, helping to significantly improve air quality. It also offers fleets the potential to reduce CO2 emissions by up to 95 per cent when running on liquefied bio-methane.