The Evolving Structure of Power Purchase Agreements (PPAs)
By: Erin Decker, Director, Cleantech Client Management, Schneider Electric.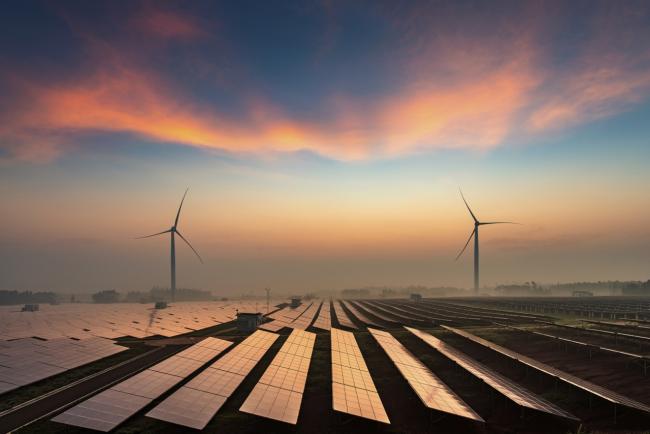 SUMMARY
Interest in renewable energy has skyrocketed over the past couple of years. Organizations worldwide are making commitments to transform their operations and achieve anywhere from 50% to 100% of energy procurement from renewable sources.
Monday, January 20, 2020 – 11:35am
As corporate interest in clean technologies continues to boom, the market is simultaneously evolving and becoming increasingly complex. Companies need support to reach their renewable energy targets in a cost-effective manner that maximizes business performance.
One of the most effective ways for organizations to ensure they're entering in the right clean energy deal is to work with a trusted advisor. Many large companies choose to meet their renewable energy goals using a power purchase agreement (PPA).
What exactly is a PPA?
Defining the mechanism
A PPA is a reciprocal financial relationship between an electricity generator, the seller, who develops and owns the project and a dedicated purchaser of the electricity, the buyer. The electricity can be generated by renewable sources, mainly solar and wind.
PPAs play a key role in financing and developing electricity projects. Electricity is purchased by the buyer at a pre-agreed price structure per unit for a set period, which provides certain cash flows for the project.
A corporate PPA is where the electricity buyer is a business or company, rather than a utility or the public sector.
Organizations should be aware that there are several ways to go about entering a PPA. It's in businesses' best interest to understand the nuances between various PPA structures to make a decision that makes the most sense for them.
PPAs may be broken down into direct PPAs or a virtual PPAs (VPPAs):
In a direct PPA, a contract is established between a company and a power producing facility to purchase the electricity generated by that facility. Companies with a large energy footprint in a single state or narrow geographic region are typically the best candidates for this type of PPA because the clean power is directly delivered to the account of the facility purchasing that energy. Direct PPAs can be structured in a variety of ways and may require additional parties, such as retail providers or local utilities.
In a virtual PPA, the buying organization does not take delivery of the renewable electricity being generated. Instead, the company contracts with the generating facility for the power, which then re-sells that electricity to the market for the current market price. As a result, these projects can be located anywhere in the United States, or anywhere in Europe, while the buyer still receives the financial and environmental benefits. VPPAs are swaps and may involve significant risk of loss and may not be suitable for everyone. Companies should carefully consider whether such trading is suitable for them in light of their financial condition.
VPPAs have typically been the most popular structure among corporate buyers.
Why use a PPA?
Companies are taking bold stances on how much renewable energy they want to incorporate into their energy portfolios and challenging themselves to meet those goals (some as soon as 2020). But achieving 100% renewable energy does not happen overnight – many organizations with public targets still have quite a way to go to achieve their goals. This scenario is commonly referred to as the ambition gap.
As corporations look to close in on the ambition gap, they are increasingly turning to PPAs to advance their sustainability objectives. From 2009 through to mid-2019, organizations procured more than 40 gigawatts of renewables via power purchase agreements in the Americas, Europe, Asia and Australia. The majority have been in the Americas to-date.
Power purchase agreements take advantage of the falling costs of clean power, because renewables are now cost-competitive with traditional sources of electricity in many markets.
As the price for clean power falls and offers a compelling alternative to conventional fossil fuel-based energy sources, corporate demand will continue to rise – driving organizations to increasingly declare bold commitments to reducing carbon footprints and greenhouse gas emissions.
In fact, there are now more than 210 committed organizations signed on to RE100, a global business initiative committed to 100% renewable electricity and over 750 companies taking action on Science Based Targets – a strategy with a clearly defined pathway that specifies how much and how quickly organizations need to reduce their greenhouse gas emissions. And this list grows larger by the day.
PPAs are providing organizations with an efficient route to achieve their commitments to renewable energy goals by sourcing energy from offsite providers. Joining forces with an experienced energy supplier can help. Some of the reasons corporates are moving this direction include:
Getting closer to environmental goals and addressing a sizeable portion of their electricity footprint.
Greater flexibility by engaging with projects that are not limited to their immediate location or proximity. Without having location as a concern, organizations can address their electricity footprint across operations that exist in multiple geographies and/or in regulated electricity markets with fewer renewable energy options.
Furthering environmental, social and governance (ESG) initiatives by helping organizations respond – or be proactive – to pressures from stakeholders, customers, investors, value chain partners and employees.
In addition, according to a recent Harvard Business Review survey, investment leaders are looking toward PPAs to help them take meaningful steps to integrate sustainability issues into their investing criteria – especially as stakeholders take more interest in how shareholders are improving their environmental, social and governance (ESG) performance. It's worth noting that PPAs don't require capital expenditure (capex), allowing businesses to make a significant impact on sustainability initiatives with very low upfront costs.
For these reasons, we have seen a large trend toward PPAs over the past year.
Read the full article on the Schneider Electric Perspectives blog