Fifth Third's African American Business Resource Groups Celebrate Black History Month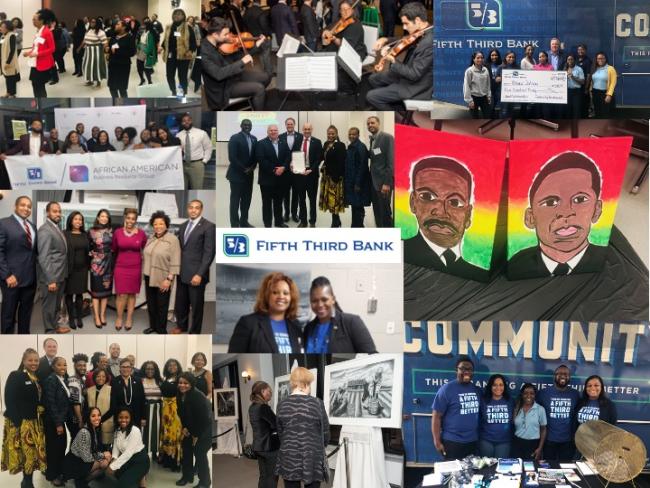 "Black History Month reminds us of the profound impact African Americans have had on shaping our culture, our nation and our world," said Tim Spence, executive vice president and head of Consumer Banking, Payments & Strategy. Spence also is the executive sponsor of the African American Enterprise BRG. "It's an opportunity to celebrate stories of strength, resiliency and accomplishment."
The BRG activities included breakfasts, lunches and networking sessions that highlighted African American contributions to American history; partnerships with organizations to present financial education to community members and an art exhibit that displayed the work of a renowned, self-taught artist who also in an award winning attorney. Other interactive activities included sponsoring an essay contest for students who participated in the Bank's Young Banker's Club program, being involved in a festival that celebrates women, hosting a trivia night and a citywide treasure hunt that focused on discovering places with ties to black history.
Fifth Third actively promotes inclusion and diversity through the year with eight virtual Enterprise Business Resource Groups, each led by an Enterprise committee executive, and nearly 70 regional business resource groups overseen by inclusion councils in each of the Bank's 14 regions. More than 4,000 employees take part in in-person regional BRGs.
All of Fifth Third's BRGs are focused on fostering employees, the Bank's reputation, and a work environment and culture that support engagement and inclusion. BRGs are open to all Fifth Third employees, whether they're members of the group's constituency or allies.