"The Battle at Lake Changjin" to top the box office list of Chinese film history
Los Angeles, November 24, 2021 – Just a few minutes ago, according to the data of the professional version of the Lighthouse, on the afternoon of the 24th, the box office (including pre-sales) of the war film "The Battle at Lake Changjin" officially surpassed the 5.694 billion "Wolf Warriors 2". Replaced by Chinese film The box office champion. According to the data of Maoyan Professional Edition, at 16:43 on November 24th, Changjin Lake's box office with pre-sales exceeded 5.694 billion, and reached the top of the box office list of Chinese film history.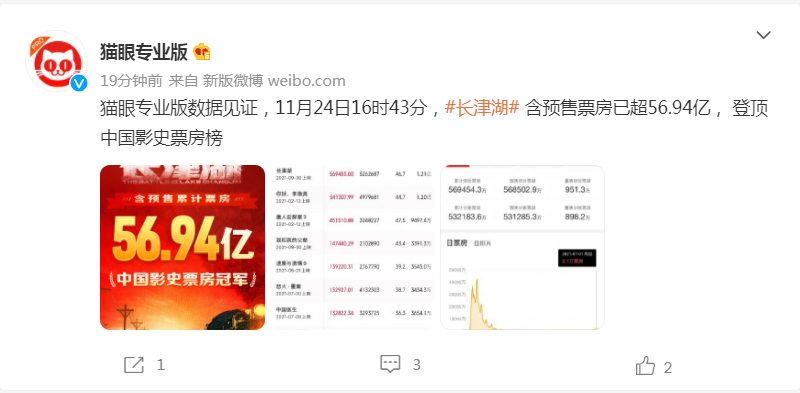 At the same time, it became the global film history box office champion, the global Chinese film box office champion, and continued to top the global movie box office list in 2021 .
From its release on September 30 to today's aspiration, in the past 50 days, "Changjin Lake", known as the "ceiling" of domestic war movies, attracted 120 million+ audience support and contributed nearly 5.7 billion box office. ,writeChinese filmA new record in box office history. According to the Beacon Professional Edition, as of November 24, "Changjin Lake" has broken 28 film history records, including single-day box office records for war films in the past three years, cumulative box office records for Chinese film history and National Day films, and Chinese film history and National Day films. Cumulative visitor records, etc.
Interestingly, the current box office champion of Chinese film history "Wolf Warrior 2" and the runner-up "Changjin Lake" are both starring Wu Jing. Many netizens said they witnessed "Wu Jing surpassed Wu Jing".
It is worth mentioning that the movie "Changjin Lake" has recently been launched in major cities in the United States and has been widely praised by celebrities from all walks of life.Some viewers said that this film is a milestone in the history of world war movies. Not only has it won the box office affirmation, but the overall production and artistic value of the work have reached world-class standards. The Los Angeles Post believes that, This is a phenomenon-level film production that deserves the attention of Hollywood film industry people, and it also hasChinese filmA model of aesthetic quality and market achievement.