Investment scam targeting WeChat groups
Image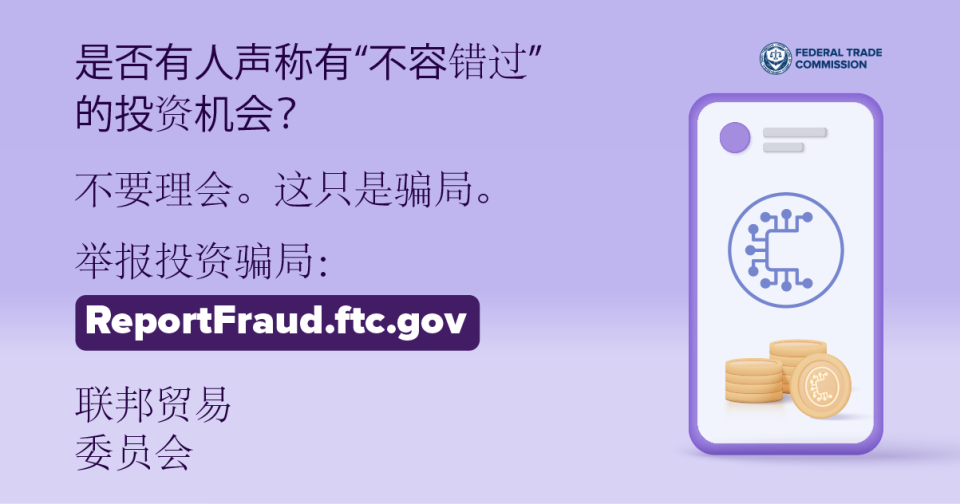 Image
A so-called investment opportunity reportedly took the social media platform WeChat by storm — and stole millions from the Chinese community in the U.S. A flurry of social media posts urged people to "invest" in various household goods and electronics, promising returns of 20-40% in 1-3 months. But it was really a scam. Want to know how to spot it?
Using WeChat groups, scammers heavily promoted the investment with pictures and stories about supposed successful investors. To invest, people agreed to over-pay upfront — as much as three times the retail price — to buy items like iPhones, laptops, and furniture. In exchange, scammers promised to return investors' money in 1-3 months. And, as a thank you for investing, investors got to keep the products for free. At first, scammers shipped products and paid out some investors, leading people to sink more money into the scheme. In truth, there was no investment and what little scammers paid out was money they stole from new investors. It was all a lie.
To build trust, scammers often use common bonds — like shared language or culture. They exploit these relationships and pitch can't-miss investment scams. To spot the scams:
Don't believe promises that you'll make money, get a big payout, or earn guaranteed returns. No one can guarantee you'll make lots of money with little to no risk. Anyone who does is a scammer. And those testimonials or photos from people who supposedly made it big? Those are easily faked.
Ask online group moderators to remove people pushing investments. Or, if you're a group moderator, remove anyone offering advice or "help" with investing to prevent scams.
Research before you invest. It pays to search online for the company or person's name with the words "review," "scam," or "complaint." Find out how the investment works and where your money is going. If you need help making investment decisions while avoiding fraud, visit Investor.gov.
Spot a business opportunity or investment scam? Tell the FTC at ReportFraud.ftc.gov.
Read this post in Simplified Chinese