Reflecting on Women's History Month at Hershey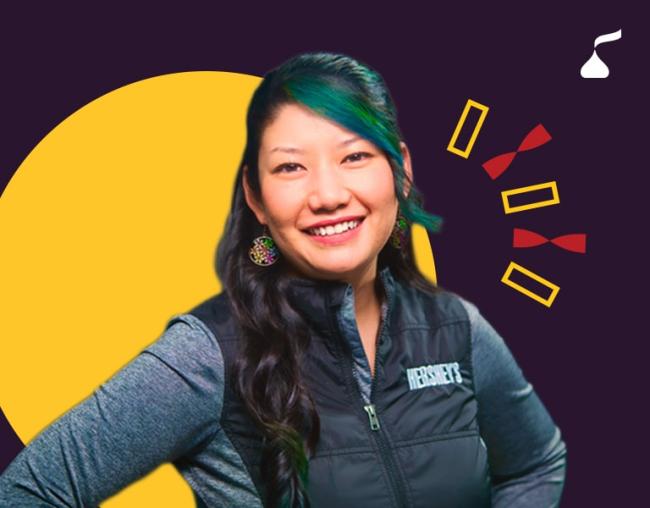 Jenny Fukumoto-Pasko, @HersheyCompany Senior Associate Brand Manager, reflects on #WHM : As my @KelloggSchool professor Dr. Nicholas Pearce, PhD, says, "Many women and people of color are over-mentored and under-sponsored."
When I joined The Hershey Company as an Associate Brand Manager in 2019, I knew I wanted to impact both the business and the people. I was a freshly-MBAed marketer with diversity, equity and inclusion (DEI) on her mind. Within six months, I threw myself into two things that fill my energy tank to the brim: recruiting and empowering women through joining the recruitment team and Women's Business Resource Group (WBRG).
Being a feminist (which I define as, simply, someone who believes women should be treated equally to men) has become an increasingly important part of my life as I've gotten more confident in my own identity as a woman of color. If 30-something Jenny could give 22-year-old Jenny a pep talk, she'd tell her that she would eventually find her stride and, more significantly, would find a career in which she could take all that energy she couldn't articulate and throw it into tank-filling passion projects.
But don't worry about 22-year-old Jenny. Over the years, she grew professionally and personally, with the help of inspirational women—and men who were advocates for women's empowerment.
Mentorship and sponsorship
This Women's History Month, I've reflected a lot on these two important catalysts for female advancement. As my Kellogg School of Management professor Dr. Nicholas Pearce, PhD, says, "Many women and people of color are over-mentored and under-sponsored." Specifically, there is no shortage of mentors to give advice and guidance. There is, however, a shortage of sponsors who will amplify that person's accomplishments and readiness in order to create meaningful career-advancing opportunities.
This crucial distinction between mentorship and sponsorship shook me to my core. I found a lot of pride in being an available mentor to women who would benefit from my perspective. But how many times was I actively sponsoring that woman by mentioning her name in conversations with managers and directors, or nominating them for opportunities I hear about? It's a muscle I've actively started to exercise as I look to be a better DEI champion.
I am fortunate to have had access to many inspiring, competent and compassionate female leaders at Hershey. In fact, it was a female marketing director who dreamt up and organized the recent effort to give #CelebrateSHE International Women's Day Hershey's bars and handwritten notes to more than 1,000 female Milton Hershey School students. It was a wonderful way to remind young women how incredible and fearless they truly are.
On International Women's Day I also had the opportunity to host a virtual Lunch and Learn with author, entrepreneur and previous Hershey marketer, Kristin Harper, in which we discussed the importance of personal leadership and stepping into those characteristics and experiences that make us unique. One of the most impactful takeaways was stepping into the role of an advocate, the more active step beyond being an ally. Helping our employees understand how we can all be better advocates for our colleagues and communities is an important part of creating change.
Continuous improvement
However, we're aware of the sad-but-true headlines: women have been disproportionately affected by the pandemic. During our virtual working situation, Hershey has rallied around supporting flexible time for corporate employees (including family flex and just general mental wellness) as well as making multiple resources available for opportunities to focus on mental well-being, increased connection and listening sessions with senior leaders. I'm fortunate to be a corporate employee who can take advantage of this flexibility; I know my on-site manufacturing and sales colleagues must be creative to incorporate flexibility into their jobs.
Where we as a company strive to continually improve is around parental leave: demystifying the leave policy process and all of the paperwork involved, as well as constantly monitoring the industry benchmarks to ensure Hershey employees (both mothers and fathers) have the support to take the critical time caring for family. All of this helps alleviate the burden on women.
When There are Nine
Ruth Bader Ginsburg famously said she would feel there were enough women on the Supreme Court when there were nine women. Because there is only seven percent female representation among Fortune 500 CEOs, the importance of Michele Buck's leadership as both CEO and Chairman of the Board is not lost on me. Nor is the significance of new Walgreens CEO Rosalind Brewer becoming the second Black female CEO of a Fortune 500 company (and the only current sitting one) this very month.
This Women's History Month, I feel supported that Hershey leads the industry paying U.S. salaried women and people of color an aggregated dollar for dollar with male colleagues, and we're not stopping there. I feel optimistic that we've implemented the Pathways Project to help increase retention and promotion of women and people of color. I feel proud that I can bring my full self to work, driving growth with both our business and our people.