English-dubbed Ne Zha to be released in North America
Xinhua | Updated: 2020-02-01 12:03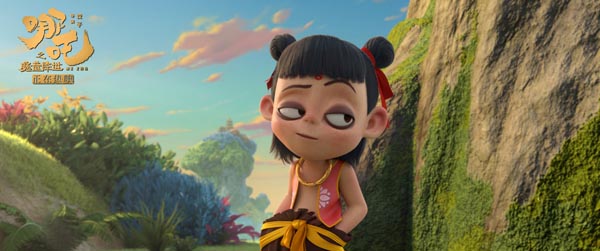 LOS ANGELES — China's animated blockbuster "Ne Zha" will hit the big screen in limited theatrical release in North America again on Friday. This time, with English dubbing.
Well Go USA Entertainment will released the English language dub of "Ne Zha" in 13 cities across the North America, including New York, Los Angeles, Houston, Toronto and Vancouver. The company released the Mandarin-language "Ne Zha" with English and Chinese subtitles in select theaters across the United States and Canada last year and grossed more than 3.67 million U.S. dollars in the region.
"Ne Zha" is the top-grossing animated film ever made by China and No. 2 on the box office chart for all films ever screened on the Chinese mainland. The box office hit has grossed more than 700 million dollars worldwide.
Directed and written by Yang Yu (stage name Jiao Zi) in his feature film directorial debut, the home-grown animation features a popular young hero from ancient Chinese legends and classics such as "Journey to the West." In the story, Ne Zha, born with unique powers, finds himself an outcast that is hated and feared; destined by prophecy to devastate the world, the boy must choose between good and evil to break the shackles of fate and become the hero he wants to be.
"'Ne Zha' is an attractive animation film. We bring the English dub to North America because we hope to share the film with not only overseas Chinese but also audience from other ethnic groups," Annie Walker, chairman of Well Go USA, told Xinhua.
"It's certainly a chance for mainstream audience in North America to know more about Chinese film and Chinese culture," she added.